Hoi An City, China Beach and Marble Mountains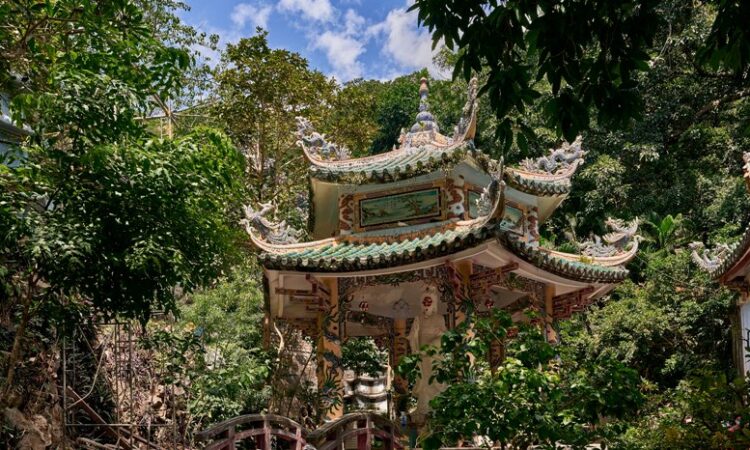 From Hue, drive south to Hoi An, along an absolutely beautiful coastline, and stop at China Beach (pristine and deserted) and also the Marble Mountains (more temples carved into caves).
Hoi An is known not so much for tourist attractions as for the opportunity to see the architecturally preserved old town, and to interact with people more deeply than is possible in the big cities.
Hoi An is a small historic town that has managed to preserve many of its historic Vietnamese buildings, most of which are now shops, restaurants, and museums. Walking through its narrow streets gives you a sense of what many towns must have been like a hundred years ago. We found a charming hotel, the Riverside Hotel Hoi An overlooking a river and farms. In the mornings, we watched farmers in the rice fields with their water-buffalo. One night, we asked our hotel if we could watch them prepare our dinners so we could learn more about Vietnamese cooking. We were surprised when the staff assembled a complete cooking station on the patio and we watched in amazement as they cooked our dished with lots of fanfare and some of the biggest flames we've ever seen!
We are usually fans of trying lots of different restaurants, not settling for the same, safe, place night after night.  In Hoi An, though, one restaurant was such a stand out that we found ourselves returning.  The Cafe Des Amis had wonderful food in a relaxed environment.  We sat down and let the owner bring us his specialties, featuring local seafood (wonderful vegetarian meals are also available).  Course after course arrived and we devoured each delicately flavored dish with gusto.   Each night, the menu was different, and on our final night the owner prepared a duck dish that absolutely blew away any of the delicious duck dishes we'd had in the past.  If we return to Vietnam, we'd want to see Hoi An again just to eat at Cafe Des Amis.
Other highlights from our trip to Hoi An were, visiting the local market and visiting local craftspeople.  The woodcarving was so beautiful that we couldn't resist buying a piece to ship home (woodcarving prices are inexpensive, it's the shipping that kills you every time!)
I also had some silk pajamas made for about $15 us. There is no greater luxury than silk pajamas that exactly fit. If we were to return, I'd bring along some pictures from fashion magazines and have the local tailors whip up some of the latest styles for me.
Tips
The Riverside Hotel Hoi An is our top pick for both environment, rooms. The location, opposite a working rice field, couldn't be more peaceful, and brunch (included) was delicious.
The Victoria Hoi An Resort is a little further out of town and a wonderful place for someone wanting to spend a little extra time by the beach and a little less time in town.
Closer in, the very reasonably priced Cua Dai Hotel (862231) offers clean rooms with a little bit of charm close enough to town to walk in.
Cafe Des Amis was one of our favorite restaurants in Vietnam, both for food and friendliness.
Ly Cafe 22 (22 D Nguyen Hue) has the best wontons we've ever eaten.