Halong Bay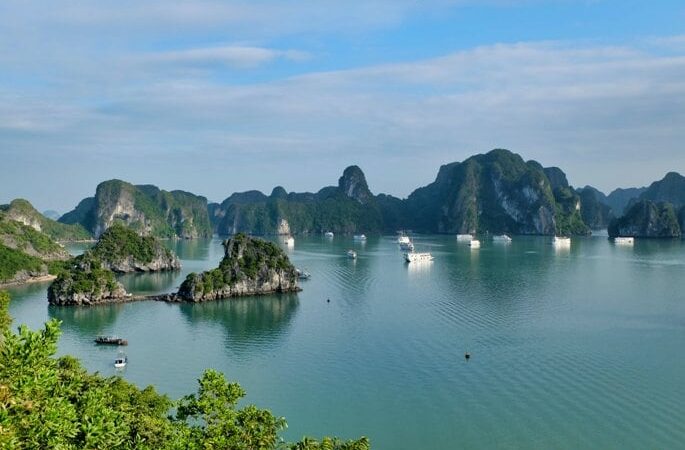 We joined an overnight boat trip in Halong Bay. The boat took us to visit a huge cave with fascinating formations. We also saw several "floating" villages, where people live on houseboats and farm fish and shrimp in baskets secured to the bottom of their homes — they even have a floating school! Sadly, the bay is littered with trash — villagers just dump their garbage out their windows — and the shifting currents move it from place to place.
One of the high points of our boat trip was spending the night on the boat. The weather was hot, and our cabin was small and stuffy, so along with some other passengers, we dragged our sleep sacks up on deck, spent the evening telling stories, and fell asleep under the stars. Waking up on the bay was a beautiful and memorable experience.
Tips
Make sure you know exactly what you're getting when you book your tour in the northeast and Halong Bay. If you are taking a private tour, it is very helpful to meet your guide in advance and size up his or her personality and command of English – this is a person you will be travelling with for several days, so you want to make sure you're going to communicate well. If possible, it's also helpful to talk with some returning visitors and get their impressions. 
Questions to ask:
Where will I be sleeping?

Is there an opportunity to stay with a local family?

What will I eat, are meals included?

If there are any treks or hiking, how strenuous are they?

What is the exact itinerary?
Questions and Answers
Got a travel-related question? Ask us and our readers. Once we review your question, it'll appear on this web page, and we'll notify you when it's answered! Please do not include any web links.